Home
About Us
Location
Hours
Membership
Meetings

Officers
Pioneer Settlers
Obituaries
Cemeteries
Publications
Lookups
Places
Resources
Research
Links
History
Nestled in the foothills of northern California, the Paradise Genealogical Society was started in 1968 by a dedicated group of volunteers. Motivated by a love of history, they collected books, newspaper articles, maps and photographs of Butte County. Through the years, our members have donated and indexed additional books, obituaries, publications, and family histories.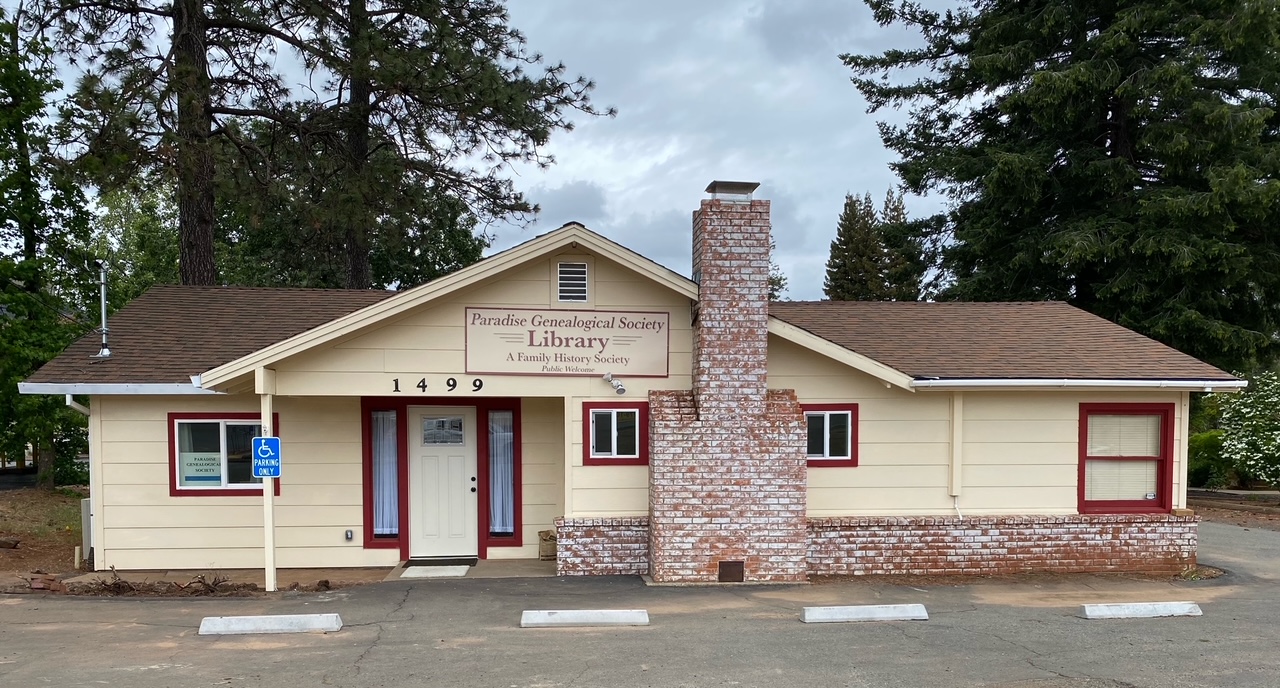 L

ibrary Address:


Paradise Genealogical Society
Mailing address: PO Box 460, Paradise, CA 95967
Library Address: 1499 Wagstaff Rd, Paradise, CA 95969

E-mail Us: pargenso@att.net

Library Hours:


Friday 10:00 - 4:00 and Saturday 10:00 to 2:00
Phone: (530)762-7105

Paradise Genealogical Society Membership

Membership fees (effective January 1, 2017) are for a 12 month period (except LIFE) and are available in the following categories:
STUDENT (Under 20) $15.00 (US)
INDIVIDUAL, $30.00 (US)
FAMILY (same address), $35.00 (US)
GOLD MINER (Individual or Family), $50.00 (US)
GOLD MINER PLUS (Individual or Family), $75.00 (US)
LIFE (50 or over), $350.00 (US)
ADD spouse to Life membership, at any time, $100.00 (US)
To print out a membership application form please click HERE .
Or please PRINT OR TYPE the information and send it with your remittance:

---
PARADISE GENEALOGICAL SOCIETY
MEETINGS

We hold meetings on the 3rd Thursday of January, February, March, April, May, June, September, October, November, and December at the library at 1499 Wagstaff Road, Paradise CA.
Board Meetings, open to members, are normally held at 9:00 am on the Wednesday two weeks prior to the Regular Meeting of each month at our library 1499 Wagstaff Road, Paradise, CA. Members planning to attend should verify meeting times with a PGS Board Member.

At times during the year we also sponsor seminars of interest to genealogists which are also open to the public.

PARADISE GENEALOGICAL SOCIETY
YEAR 2022 OFFICERS

To contact an officer or other member, E-mail us and on the Subject line, enter ATTN: 'the name or position of the individual'.

President - Open
1st Vice-President - Open
2nd Vice-President - Pat Harman
Library Director - Pam Crosby
Treasurer - Carol Sutherland
Recording Secretary - Linda Taylor
Corresponding Secretary - Judy O'Neill
Director - Beverly George
Director - Marcia Gilmer
Director - Joyce Higgins
Director - Ed Wilheim

Some Committee Coordinators:

Goldmine Editor - Vacant
Nuggets Editor - Deana Glatz
Web Maintenance - Michelle Blowers, Deana Glatz, Judy O'Neill

These Officers, and our COMMITTEE CHAIRS/COORDINATORS (posted at the Library), need other Society Members to assist them. Please contact them and let them know how, and when, you can assist them.

Duties for all positions may be found in the "Policy and Procedure Manual" available for reference at the Society Library.

The Butte County Pioneer Settler Certificate Program was initiated by the Paradise Genealogical Society as a way to celebrate the beginning of the new millennium. The descendants of early settlers in Butte County or the area which became Butte County may be eligible for a pioneer certificate on verification of their application and documentation. The certificates are issued for one of the following four time periods in county history based on when the pioneer settled in the area that is now Butte County.
Click here for more information.